The Evangelist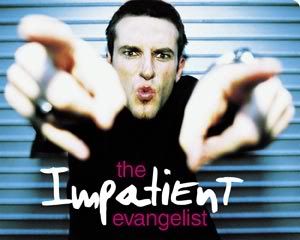 When I attended the
New Attitude
conference in May, I was challenged to hold tightly to the truth of the gospel. One aspect of that calling is evangelism. I would consider myself "the clumsy evangelist." I seem to say the wrong thing at the wrong time. The Lord encouraged me through a chat with Eric Simmons, the singles pastor at Covenant Life Church in Gaithersburg, Maryland.
As I listened to Eric share his passion for evangelism, his words resonated. I have often found myself frustrated with sharing Christ because the outcome never seems to be what I hope for. Eric helped me confront an ugly truth in myself: While I hope for a decision for the sake of the person I am witnessing to, I perhaps desire it more for my own satisfaction. Instead of being willing to simply play my part in God's plan, I try to control the situation.
Eric offered dead-on biblical perspective. "God loves this person infinitely more than you ever could," he said. Read more of Eric's words of wisdom in this week's
Boundless
article,
"The Impatient Evangelist."
I hope Eric's words will encourage you as much as they encouraged me as you converse with people who don't know Christ but desperately need Him.